The former ambassador to the US became famous for his colourful turn of phrase – and his colourful socks.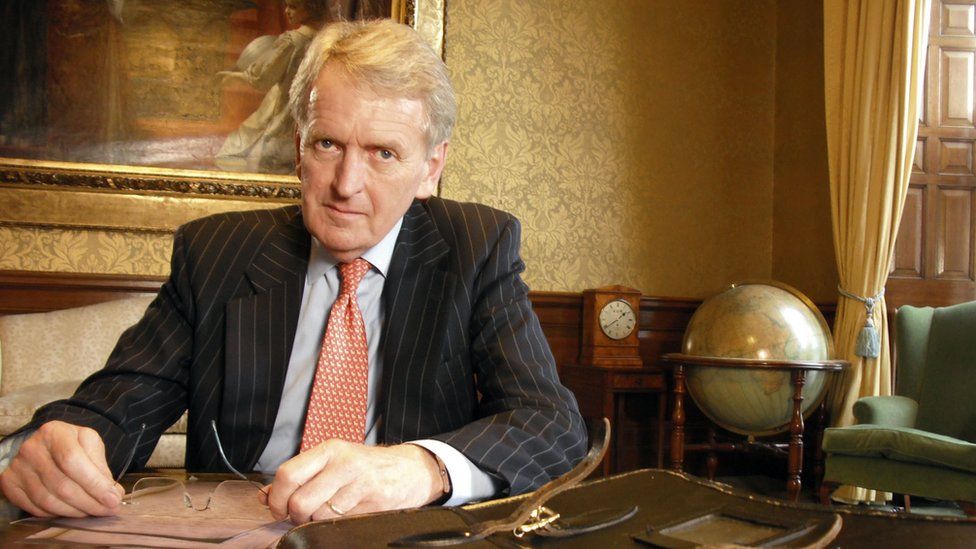 Sir Christopher Meyer, the UK"s former ambassador to the US and one-time Downing Street press secretary, has died aged 78.
The death was confirmed on Twitter by the current ambassador to the US, Karen Pierce.
"He was a great diplomat and a great character," she wrote.
The Daily Mail reported that he died after suffering a stroke while on holiday in the French Alps with his wife Catherine.
Sir Christopher joined the Foreign Office in 1966 and had early postings to Moscow, Madrid, and Brussels.
In 1993, he was appointed press secretary to then-prime minister John Major.
After three years, Sir Christopher returned to foreign postings, initially as ambassador to Germany before being sent to Washington.
He served as ambassador to the US for six years during Tony Blair's time as prime minister, with his tenure covering the end of the Clinton administration and the 9/11 attacks.
Between 2003 and 2009, he served as chairman of the Press Complaints Commission, and later became known as an author and broadcaster, appearing frequently in the media as a commentator on current affairs.
He was also active on Twitter, with more than 32,000 people following his account under the name @sirsocks – which was a reference to his penchant for wearing colourful socks during his public life. It led to him being described as a "red-socked fop" by Labour's former deputy prime minister John Prescott.
His 2005 memoir DC Confidential prompted further spats with politicians of the era. He criticised Tony Blair for failing to use his leverage in Washington to delay the Iraq war to allow better planning for the post-Saddam Hussein era.
And he said that many of Mr Blair's ministers who visited the US were political "pygmies" who failed to impress their American counterparts.
In particular, he described Jack Straw as being "mystifyingly tongue-tied" in one key UK/US meeting and labelled him as a B-list politician who was "more to be liked than admired". In response, Mr Straw said that Sir Christopher's book amounted to an "unacceptable" breach of trust.