Ben Wallace, at one point a favourite to replace Boris Johnson, had not previously backed a candidate.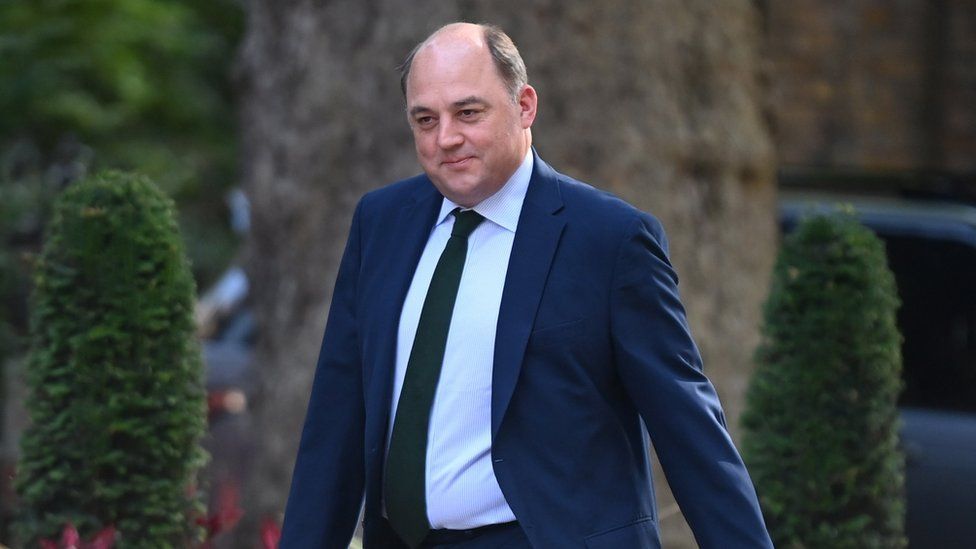 Defence Secretary Ben Wallace has endorsed Liz Truss for Conservative leader and prime minister.
Writing in The Times, he said Ms Truss was "authentic" and had the experience to address the country's challenges.
Mr Wallace, popular among Tory members for his handling of the war in Ukraine, was himself seen as a contender in the race, but ruled himself out early on.
His endorsement comes after Ms Truss and Rishi Sunak took part in the first official Conservative husting in Leeds.
Mr Wallace's article marks his first major intervention in favour of any candidate since the race got under way earlier this month.
He said he had sat with Ms Truss, the current foreign secretary, in "cabinet, bilateral meetings and international summits".
He said that she may not be a "slick salesperson", but that she "stands her ground" and "is straight and means what she says".
He listed some of the issues facing the country, including the economic aftermath of the Covid pandemic, global inflation, and the threat posed by President Putin, adding: "These are not normal times."
"[Ms Truss] is the only candidate who has both the breadth and depth of experience needed to confront these challenges," he said.
Mr Wallace, a former soldier who held the rank of captain in the Scots Guards, emphasised what he saw as the importance of maintaining defence spending, and welcomed Ms Truss's commitment to increase it to 3% of GDP by 2030.
"I have read thousands of intelligence reports and can say with confidence that the threat to us and our nation is growing," he said.
"The threats are not going away by themselves. [Ms Truss] understands the world in which we are now living. She recognises the potential that Britain can harness as a global defence power."
The first hustings in the leadership race, hosted by LBC presenter Nick Ferrari, took place on Thursday night.
The event saw Ms Truss's rival, Rishi Sunak, discuss reforms he would introduce to the education system. Asked if he was in favour of the return of grammar schools, he replied: "Yes".
"It's not about throwing more money at the problem, it's about reforming the system to get better outcomes," he said.
His team later clarified that he would expand existing grammar schools in "wholly selective areas" and maintain commitments under the Selective School Expansion Fund, which funds the expansion of certain state schools which select by ability.
During her own appearance, Ms Truss, who spent her school years in Leeds, said it was "fantastic" to return to her old stomping ground.
She said she learned "grit, determination and straight-talking" from Yorkshire, calling it a useful skill as "we face a huge global economic crisis".
She also repeated her pledge to deliver the Northern Powerhouse Rail scheme in full.
Speaking to voters, she said she wanted to "channel the spirit of Don Revie" – the former title-winning Leeds United and England manager – because "we need to win".