Full details of a new resettlement scheme will be set out shortly, the foreign secretary says.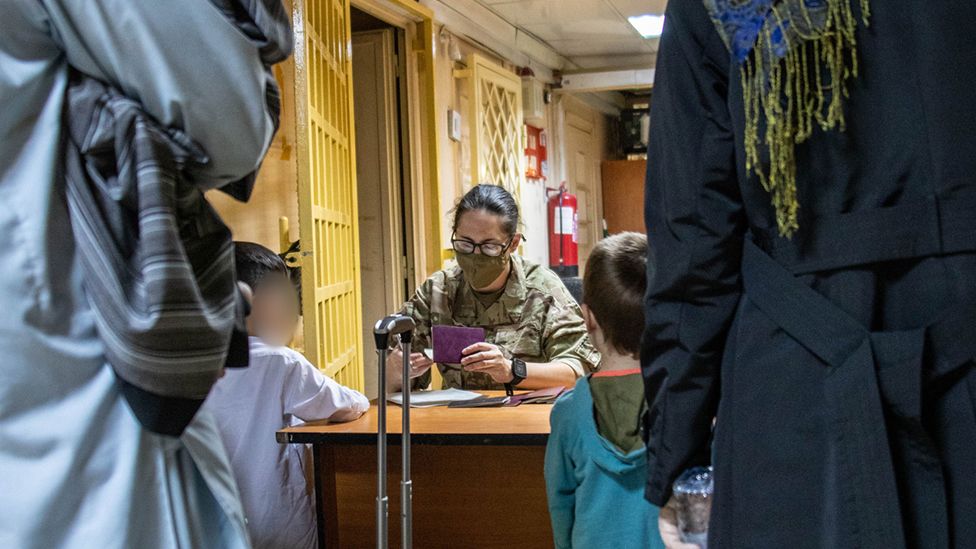 The UK is looking at a "bespoke arrangement" for Afghan refugees, with full details to be set out in due course, the foreign secretary has said.
A new resettlement scheme will be aimed at helping those most in need – including women and girls – to come to the UK, No 10 has said.
Dominic Raab did not confirm how many refugees would be able to come but said the UK was "a big-hearted nation".
It comes after the Taliban seized control of capital city Kabul.
Mr Raab told BBC Breakfast the UK had "always been a country that has provided safe haven for those fleeing persecution".
However he added: "The most important thing we can do at source… is try and provide the stability so we don't see these large numbers of migrant flows.
"So I think that ought to be the number one priority but nonetheless asylum is really important."
Mr Raab said details of the new resettlement scheme would be set out by the home secretary and prime minister "in due course".
Parliament is being recalled from its summer recess on Wednesday to debate the situation in Afghanistan.
The BBC has been told the new resettlement scheme will be similar to that used to help Syrian refugees.
On Monday evening, the Home Office said the UK had already admitted more than 3,300 Afghan interpreters, staff and their families to the UK for resettlement.
The Home Office said "it will be guided by the capacity of local authorities" when deciding how many Afghan refugees to allow to settle in the UK after the Taliban seized power.
Mr Raab said the UK could also increase humanitarian aid to Afghanistan.
He told BBC Radio 4's Today programme: "I expect that we will increase our aid budget for development and humanitarian purposes, probably by 10% is what I have in mind on last year.
"We want to try and make sure it won't go through the Taliban, but make sure that we can alleviate the humanitarian suffering."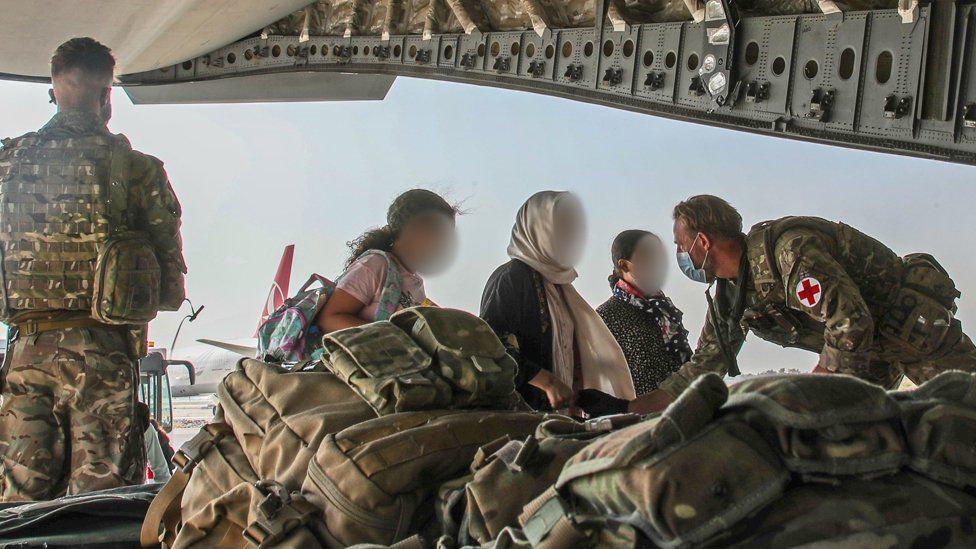 Women's rights activist Malala Yousafzai, who was 15 when she was shot in the head by Taliban militants in Pakistan, urged the international community not to abandon Afghans.
Labour's shadow foreign affairs minister, Stephen Kinnock, said the government's offer to refugees needed to be "bold, ambitious and generous", and "backed up with the capacity to process it".
He also accused the government of "a dereliction of duty" in how it had handled the withdrawal from Afghanistan, describing it as "disastrous".
It comes after a number of people died at Kabul airport on Monday, with large crowds on the runway eventually leading to all flights being halted for several hours.
Amid chaotic scenes at the airport, British ambassador to Afghanistan Sir Laurie Bristow was said to be working alongside UK staff and the armed forces to process visas for eligible Afghans.
The MoD also said further personnel would be deployed to other countries in the region and able to move on to Afghanistan if needed, while more troops would be put on standby in the UK.
Most Afghan nationals currently eligible for relocation to the UK are those who have worked for the British government in frontline roles "that made a material difference to the delivery of the UK mission" in the country.
This group includes interpreters as well as cultural advisers and embassy staff. Others eligible are those deemed to be at high and imminent risk, according to the Ministry of Defence.
Mr Rabb said the government expected 350 more British nationals and Afghan staff to leave the country in the next 24 hours – and that numbers should increase "quite significantly" if the situation stabilises.